So every year around this time , I do a blogpost proclaiming my love for October and Autumn. It's colder, which means we can layer (YAY!) , but not so cold that we have to sacrifice our cute layering for industrial thermals such as in the height of Winter.
It's also darker earlier, which means cosy fires in the evening and warm drinks in our bellies! There's a certainty to this time of year too. We know it's going to be cold and crisp and dark. The false optimism we experience before Summer isn't there. You know the feeling (well
especially
in Ireland) around May, when the days are getting longer and the smell of freshly cut grass is in the air...you think, "this is going to be the best Summer ever. I will get to wear bare legs every day, work on a tan, be more out-doorsey and generally be a better person." When in reality, you spend most of it sneezing due to your yearly re-occurrence of hayfever ( PESKY FRESHLY CUT GRASS!) and running for shelter as the heavens open on your bare legs , probably washing away some sort of instant tan. Sigh.
Anyhow,Halloween is looming and my attention has been turning to all things goth-like.
I especially love Topshop's 'Witching Hour' , mixing velvets , plums, blacks, embellishments, sequins, crosses, tarnished silvers, leather, feathers and all other sorts of yummy textures.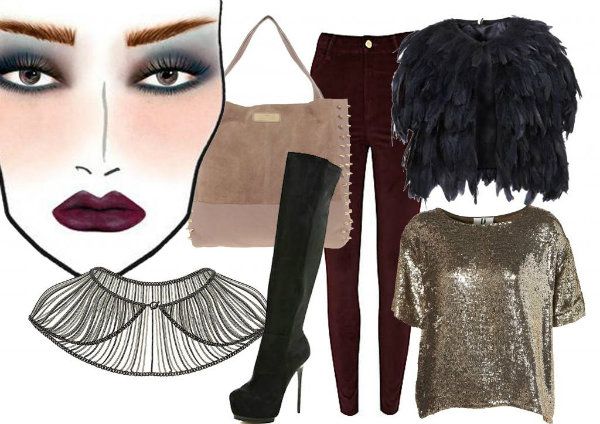 Sequined Tee, Beaded Cape , Feather Jacket: Topshop.
Velvet Trousers, Studded Bag, Over Knee Boots: River Island.
Make Up: M.A.C.