This evening we popped into the Little Green Street Gallery for the exhibition opening of designer and illustrator Kitty Moss.The show is based on her label 'Maud and Minet'. Basically it's a "social diary of a gracious ghost (Maud) and her curious cat (Minet)" . The exhibition is a combination of beautiful illustrations and ethereal fashion pieces. The garments are displayed on mannequins standing in a circle, facing inwards, giving the clothes a creepy but beautiful presence.
What I really loved about this show, was that , the artist combined humour with amazing talent. Prints had names such as "Lana Dis May" and "Nothing tastes as good as being spooky feels". The entire concept was exciting, new and fresh. It's been a while since I have been genuinely excited leaving an exhibition. (Apart from Mr.Sketchy Inc's ones, of course!)
Kitty Moss is someone who's career I will be following very closely, as I suggest you do too.
Go visit her show in the Little Green Street Gallery , and take a look at her website
here
...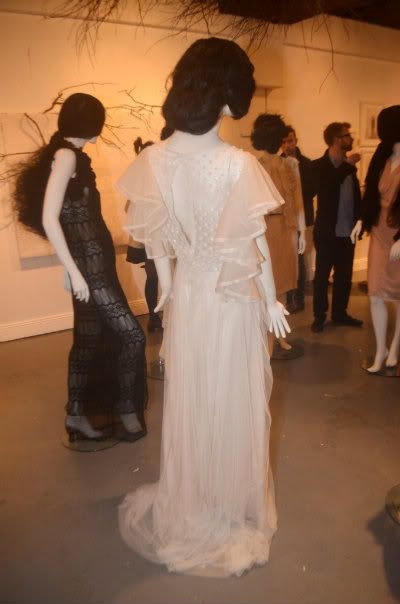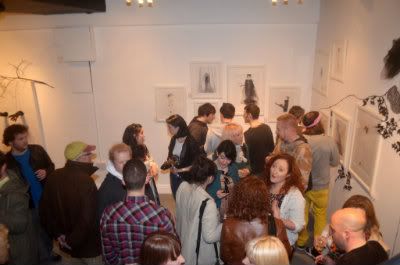 I'll leave you with the poem that accompanied the show, I was grinning the entire time reading it..
"On the opening night of London fashion week
While bloggers snapped the crazy and the chic
She slipped through the gates of Somerset house
As graceful as a breeze and as quiet as a mouse
All mouths fell open as she whisped through the crowd
In her long dark gown like a melancholy cloud
She slinked passes the masses to the very front row
Where softly she sat with her complexion like show
Models strutting by, stopped, stumbled and stared
At this waifelike beauty, lighter than air
Each finished their walk; tummies held in
Wondering:
'how the hell you get that thin?'
From that night on the world was spell bound
For the new queen of fashion was duly crowned
Tabloids placed her on every front cover
Each week claiming she was somebodies lover
Girls in the street tried to mimic her grace
Some getting surgery to reconstruct their face
A glimpse of her car made front-page news
From Elbaz to Tisci she was everybody's muse
At every after party and very new store
She left just in time for them to want more
Never speaking to a soul her mystery reigned
Just her and her cat so poised and contained
Then one shadowy dark eve towards the end of the season
She disappeared from the light with no rhyme or no reason
In an empty cold room her clothes dropped to the floor
She faded into the darkness and existed no more.