Even though it's raining out there and it's hard to get the summer feeling we better get ready for a whole summer worth of festivals that are about to get under way!
And with bands such as kings of leon landing on our shores we need to be looking our "oh this old thing? i just threw it on... ahem" best for caleb and friends. hehe.
So here's our pick of some amazing festival essentials to perfect the disheveled and yet completely gorgeous and took hours to perfect my tousled hair look.
SO first up is the perfect denim cut off short. To be worn with torn /opaque tights or brave it and go bare legs. Even though I have "issues" with fake tan I do honestly believe that Irish legs shouldn't be exposed in their blue/grey state. So a
light
covering of fake bake should do the trick..
I love these topshop frayed and studded ones
Alternatively I found this amazing daisy dukes on ebay for 7 pounds! bargain!
If u really wana be authentic then grab ur old levis and hack the legs off. Does the trick! Recession, WHA??
Next stop is finding a top..
Urban outfitters have some gems like this oversized striped tee..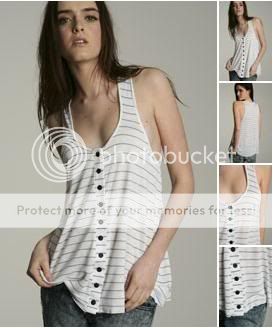 Ed hardy have a wicked cool fringed one that's bang on trend while still being cool enough to wear in 5 years time.
Another great ebay find, this vintage fringed top nice huh?
You can always go down the dressed down glam look here too, how about replacing the tshirt idea with sequined top? With the shorts/tights combo it's not too dressy but still completely cool.
This top is available from bluebirdvintage.com. I do loves it lots.
Next is accesories... bangles are key in this look and the more the merrier! so stack em high..think wooden/ gold / old and beaten..
I would love to guarantee sandal weather for the festival season but alas this is Ireland so rain is inevitable.
These cute gladiators are only €6 from pennys (primark) and since they're so cheap you wont feel as cheated when u have to chuck them back in your tent to pop these bad boys on...
Ah yes the classic green hunter boots. Every fashionable festival goers best friend.
Again the shades are weather permitting depending on how defiant/ rockstar you are..
Aviators again are classic but oooh too cool for school.
At this stage a straw fedora could push u over the edge into desperado-ville or be the perfect finishing touch. If the first is the case stick to braided disheveled hair (that we all know you went to perer mark for but shhh it's ok)
Ta da! Now all you have to do is learn the obligatory rockstar strut and yer set!
Enjoy!